Soldiers Aid Initiative Offers Hope During Holidays
Many men and women in uniform serving as reservists or going through deployment transition often face alarming hardships of which the general public is unaware.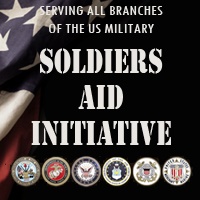 BriefingWire.com, 12/19/2013 –
Soldiers Bible Ministry
(SBM) announces its first "Soldiers Aid Initiative" just a few days before Christmas. "We have an urgent request. It has been made known to us that 36 active duty soldiers in Georgia are in desperate need, whether due to unemployment, taking care of family, deployment transitions, etc," according to John Hoben, Volunteer Executive Director of SBM. Hoben continues, "These guys have gone through a strict approval process by their leadership as well the on-base chaplain and are qualified for our program."
Many men and women in uniform serving as reservists or going through deployment transition often face alarming hardships of which the general public is unaware. SBM's media director, Dana Ross, added her passionate perspective: "It is unthinkable that, especially at this time of year, these soldiers who have pledged to protect us and our freedoms suffer from such enormous lack. With Christmas being the season of giving, we appeal to all US citizens who are grateful for their freedoms to share generously with those who struggle to provide for their own. We need the public's help to make this the best Christmas these heroes have ever had!"
The initial goal of SBM's "Soldiers Aid Initiative" is to gift each of these pre-approved soldiers with a gas and grocery card as well as a Bible and a note of encouragement reminding them that there are folks out there who care for them. The goal is to raise $3600 prior to Christmas.
SBM is a division of Heart of God International Ministries, Inc. (HGIM), an Ohio-based 501c3 not for profit global evangelical network of ministries governed by an all-volunteer board. Jan Ross, HGIM President, said, "We want to give everyone an opportunity to partner with us through spiritual support as we fight against the tragic impact of PTSD, deployment transitions, and other challenges unique to the our military. A gift of a Bible and support material created specifically for these heroes is the first and most important step in that battle."
This is an exciting step for SBM as they continue to meet the increased demand for Bibles and Bible study materials provided free of charge to all military men and women upon request. "While SBM complies with all military codes of ethics regarding proselytizing, the ministry team welcomes opportunities to serve by giving through specific requests" said John Hoben, SBM Volunteer Executive Director. "SBM works with recipients to address the whole military family with tailored Bibles, Bible study materials and other support focused on speaking to the heart of each member of the military family. This includes various Bible formats. For example, large print Bibles for visually impaired veterans both within VA facilities and in the community, digi-camo pocket Bibles for those deploying into the field, children's Bibles for young minds, PTSD Bibles for those recovering, gas cards for cash strapped young recruits and other requests based on particular need" said Hoben.
All are invited to participate in this landmark campaign. For more information and to partner with SBM in the Soldiers Aid Initiative, please visit their website at www.SoldiersBibleMinistry.org.
Media Contact: Dana Ross
+1 888 917 7256 (ext. 727)
dana@soldiersbibleministry.org